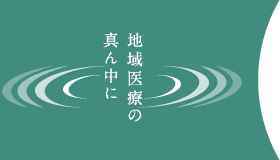 Inpatient Guide
Admission Procedures
Booked Admission
Visit to an outpatient department

Date of admission booked by the department
Date of admission

Please report to

16

reception desk for admission.
Our staff takes the patient to the ward.
Emergency Admission
Treatment at the Emergency and Critical Care Center, etc.

Admission to our hospital determined
Our staff transfers the patient to the ward.
Patient Room Facilities
Please note that extra fees for a private/special room for the number of days of occupancy must be paid in whole by the patient.
(Example: If you stay in a private/special room overnight, you are required to pay the extra fee for two-day occupancy.)

We may not be able to arrange a private room due to limited availability.

| Room Type | Room charge/day (incl. tax) |
| --- | --- |
| Four-person room | None |
| Private room | 4,620 yen/day |
| Special room | 10,280 yen/day |
| Special Room A in Ward 5B | 15,420 yen/day |
| Private Room A | 6,170 yen/day |
| Private Room B | None |
| Special Room A in Ward 5D | 12,340 yen/day |
| Special Room B | 10,280 yen/day |

Each room has a wash basin, toilet, TV and refrigerator.
Each four-person room has one wash basin and one toilet for shared use.
Occupants in a four-person room need to pay to watch TV and use the refrigerator.
Each special room has a shower, kitchen, and sofa bed.
Note: The above room facilities and charges are not applicable to some rooms. For details, please refer to the "Hospital Admission Guide" brochure.
To JA Members
Presenting your JA membership certificate when using a private/special room
Note: JA members, JA staff, and their family members who occupy a private/special room are required to have a membership certificate in the prescribed form issued at the relevant JA office and present it to the staff station of our hospital. Ten percent of the extra fee paid for the private/special room will be reimbursed later by bank transfer to your account. The JA membership certificate form is available at the staff station in each ward.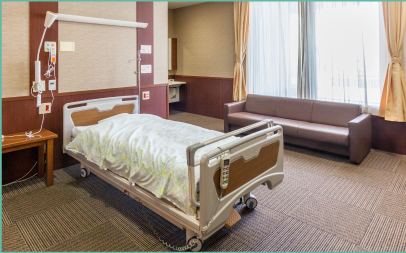 Meals
Although you may choose to take meals in the dining room or be served at bedside, please come to the dining room if deemed appropriate by the doctor.
In the dining room, a staff member of the Nutrition Department by the meal counter will ask for your name and room number and check your wrist band.
Please enter the dining room at least 10 minutes before the closing time.
Chopsticks, spoons, forks and cups are available.
The dining room is open between

7:00 and 8:00 for breakfast
11:30 and 12:30 for lunch
17:30 and 18:30 for supper
Meals are served at bedside between

7:30 and 8:00 for breakfast
12:00 and 12:30 for lunch
18:00 and 18:30 for supper
Return of Dishes

Please bring used dishes to the return counter in the dining room.
If you have difficulty in returning dishes by yourself, please wait until a nurse comes and collects your dishes.
Menu Selection

Our hospital offers two types of menus for patients to choose from.
Please mark your choice on the prescribed form and put it in the Menu Selection Box in the dining room.
Please note that some meals cannot be selected.
Meals for Accompanying Persons

We do not provide meals for accompanying persons. Please use the convenience store or restaurant on the 1st floor.
Visitors to See Patients
Visiting hours are as shown below.
Family members may visit a patient outside of visiting hours after asking the ward staff.

General wards, ICU, HCU

Every day: 13:00-19:00

Patients who do not want visitors are asked to inform the staff station.
In principle, only family members can visit a patient in ICU and HCU. Elementary-school and younger children are not allowed to enter ICU and HCU.
All junior high students and younger children, including siblings of patients, are prohibited to enter the Ward 5C (pediatric ward).
Elementary-school and younger children are not allowed to enter Ward 5D (obstetric and gynecological ward), except children of patients.
Visitors are asked to refrain from taking children to hospital to see patients to avoid the risk of in-hospital infection.

Note: Visitors are required to take care to prevent children taken to hospital from being infected by patients or infecting patients and newborns. An infectious disease may be latent even if no symptom appears.

Patients in a two- to four-person room should move to the Day Room or Day Corner to meet visitors if possible to avoid disturbing other patients.
Visiting a patient with many people or staying with a patient for a long time can adversely affect the condition of the patient and disturb other patients, and should be avoided.
Visitors may not be allowed depending on a patient's condition.
Request to Patients
To prevent misidentification of patients, you are required to wear a wrist band, and say your full name when asked before an examination or intravenous drip is started.
Other Precautions
Opening Hours of Main Entrance and Underpass Entrance
Please use the out-of-hours entrance at hours other than the above, when visiting the Emergency and Critical Care Center, and on closed days.
How to Pay
Please pay at the Accounting Desk or using the automated payment machine, on the 1st floor.
Cash cards (including debit cards) and credit cards cannot be used to pay at the Emergency and Critical Care Center Reception Desk. You can pay by cash only.
Note: Credit cards available for payment:
VISA, Master, JCB, AMERICAN EXPRESS, Diners Club, DISCOVER
Note: Cash dispensers are available on the 1st floor.
Bills are issued separately for the Department of Dentistry and Oral Surgery (Dental) and other departments (Medical).
The high-cost medical care benefit system applies separately for Medicine and Dentistry.
If you have any questions, please contact the Medical Affairs Section.
Parking Lot
Service hours

24 hours
Parking fees

Free for outpatients
100 yen/hour (free for up to 1 hour)
800 yen/day (from 0:00 midnight)
Persons Eligible for a Free Parking Ticket
If you are one of the following persons, please present your parking ticket to the relevant desk.
Opening hours
Weekdays:
8:30-17:00

Hours other than those
shown on the left
Eligible persons
Those who visit to pay
hospitalization fees
When making a payment
at

7

Accounting Desk,
please present
your parking ticket.
Please present the medical
bill and receipt you received
when you paid at


14

Emergency Lifesaving
Center, as well as
your parking ticket,
to the out-of-hours reception
(Disaster Prevention Center).
Outpatients coming for
treatment
(including those coming
to make payments
or receive documents)
Please show your
parking ticket,
together with your
reception sheet and
guide sheet,
at

5

Calculation Desk.
There are parking payment machines just to the left outside the main entrance and just to the right inside the out-of-hours entrance.
There is also a parking payment machine at every parking gate.
Note: Our hospital is near to railway stations. To minimize parking by non-visitors, a fee is charged for parking for longer than 1 hour.
Note: The hospital is a place for patient healthcare. For the sake of our patients, please refrain from making non-urgent visits.
Rotary
Please refrain from parking at the rotary for a long time, since many visitors use it for taking patients to and from our hospital.
No Smoking on the Premises
In Japan, the Health Promotion Act was enforced on May 1, 2003. Since then, healthcare facilities have been required to take measures to prevent smoking and to separate smokers from nonsmokers.
At our hospital, smoking is completely prohibited on the premises (including the roof garden, promenade, and parking lot) to prevent passive smoking. Thank you for your understanding.
Mobile Phones
You can use your mobile phone in silent mode.
Outpatient Clinics
Ward
Permitted hours
No limitations.
6:00-22:00
Places where use is prohibited
ICU, HCU, Central Operating Room, places around examination equipment (wherever a sign indicates that mobile phones must not be used), patient rooms
Instructions for mobile phone users

When using mobile phones, please be careful not to disturb other patients.
Please refrain from using mobile phones in corridors and other places where their use could dangerously interfere with the movement of people.

In the ward, the use of mobile phones is permitted in the Patient Dining Room, Day Room, Day Corner, or the chairs along the corridor by

Hikariniwa

Garden.
In patient rooms, phone calls are prohibited, but e-mailing (sending and receiving) is permitted.
Public telephones and mobile phones in the ward can only be used from 6:00 to 22:00, except in emergencies.